The Real-Time Asset Tracking
Module for Medical Devices

The Real-Time Asset Tracking
Module for Medical Devices
Would you like to track the location of valuable medical devices in your hospital precisely?
With Real-time Asset Tracking of the HPM® software, hospitals can identify the exact location of medical devices in real-time – including their technical and hygienic status if required.
Locating medical devices in hospitals with RTLS
Quick access to an urgently needed medical device can be a matter of life and death. In their daily work on the ward, nursing staff and doctors often search for items such as a heavyweight bed, a special mattress or an ultrasound device, and waste time unnecessarily tracking down the required equipment. The HPM® Real-time Asset Tracking software system is the perfect solution for hospitals. Based on Bluetooth Low Energy Technology (BLE), it enables hospitals using HPM® to track and trace medical devices and other items in real-time ('inventory tracking in hospitals').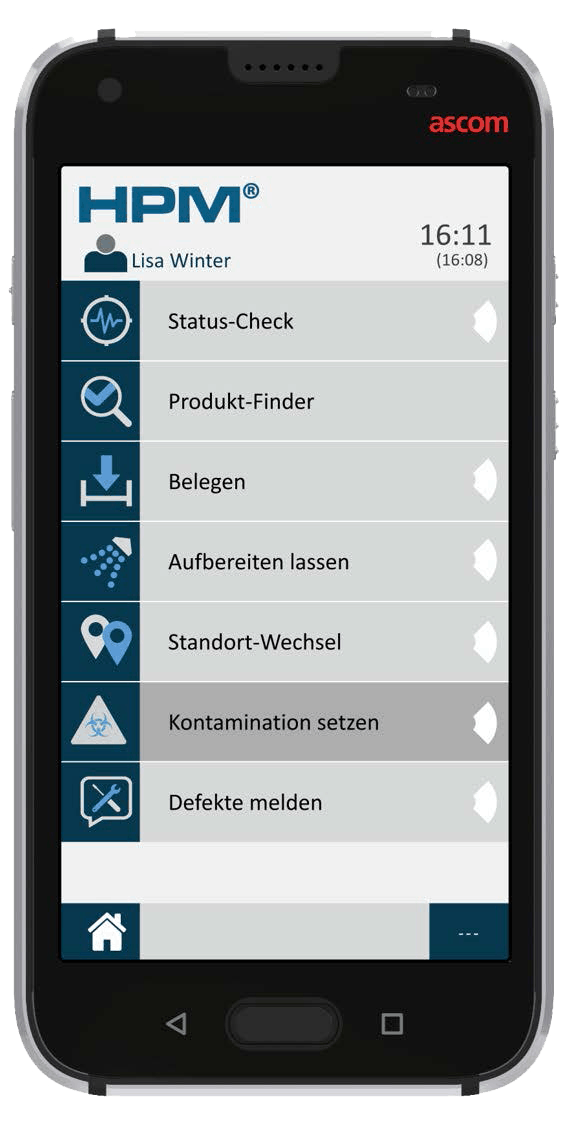 Bluetooth Low Energy (BLE) enables real-time asset tracking of medical devices in hospitals
A BLE infrastructure based on the latest standards provides the basis for the HPM® software system's precise indoor positioning system. High-performance BLE transmitters (beacons) are easily fitted to all the objects that need tracking, sending highly accurate information about their location to a network of BLE receivers fully automatically. The location of these objects can be displayed on 2D or 3D floor plan maps of the hospital, either in an app for tablets or smartphones or via web view for ward PCs.
HPM®'s bluetooth transmitters can be equipped with a variety of alarm functions. For example, refrigerators can be monitored using BLE sensors, and burglar alarms can be triggered on items such as a wheelchairs.
Monitor the location and availability of your medical devices 24/7 with our bluetooth tracking system
Real-time tracking of available medical devices considerably increases capacity utilisation of the existing medical product stock. This enables hospitals to avoid unnecessary new acquisitions.
It is easier to adhere to maintenance, testing and calibration schedules, because the HPM® Real-Time Asset Tracking system enables medical devices to be quickly and easily located for testing.
The elimination of searching time also relieves the burden on nursing staff, allowing them to concentrate on their core responsibilities.
Real-Time Asset Tracking of HPM® is a real-time location system (RTLS)
We are familiar with Bluetooth Low Energy (BLE) technology from a variety of everyday applications. Clinaris GmbH uses BLE technology to locate hospital items to a particular room or, if necessary, even to a precise storage position. This is possible by using existing network infrastructures, e.g. Wi-Fi routers, to transfer the location data captured by BLE to a backend via the internet. The objects are located via the communications between BLE transmitters (beacons) fitted to them, and BLE receivers in the relevant rooms or individual storage places. The locations of the tracked items and, optionally, their hygienic and technical status are displayed on digital visualizations (2D or 3D maps) of the hospital.
The BLE transmitters of HPM® for Real-time Asset Tracking of medical devices in hospitals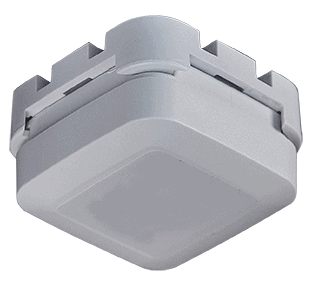 The BLE transmitters used for HPM® are energy-efficient and cost-effective, and can be used flexibly. Integrated acceleration sensors ensure that location data are only transmitted after the object has been moved. This reduces the data flow and prolongs the already long service life of the beacon batteries – which are easy to change. The BLE receivers used are either connected to existing power sockets – without blocking them – or equipped with ultra long-lasting battery packs.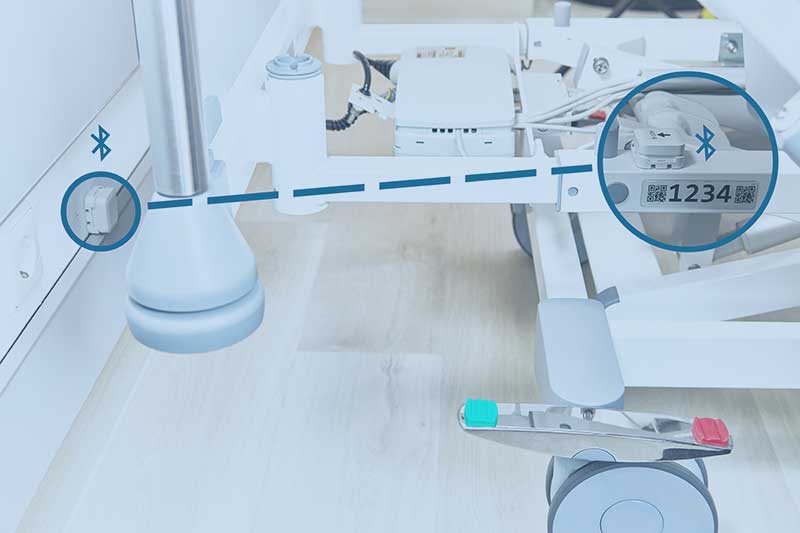 The Clinaris team at your service
After successful installation, the Clinaris team remains at its customers side for futher support offering staff training, safety updates to the software and user support – either by phone or, of course, on-site at your hospital.
Contact us now!
Request a presentation appointment and speak with our experts.
Phone: +49 (0)89 21 53 870-0